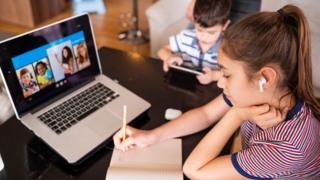 Wales did well in making sure the poorest pupils had laptops during lockdown but home learning hours were amongst the lowest in the UK, a new study has found.
Education Policy Institute analysis concluded support for children with additional learning needs was insufficient in all parts of the UK.
Disadvantaged pupils lost out most where there were delays and poor decisions, the report said.
Schools reopened fully last month.
But some pupils are having to learn at home again while they self-isolate due to coronavirus cases in their schools.
Laptops and 4G internet offered to school pupils
Plea to end remote teaching 'postcode lottery'
The Nuffield Foundation-funded study compared the support for education across Wales, Scotland, England and Northern Ireland during the height of the pandemic.
Schools in Wales closed in
…
Read More