Posted on 6 October 2020 at 4:38pm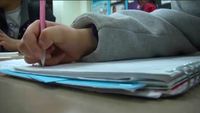 COLUMBIA – Some special education students have a hard time with online learning, but they're not alone.
Their special education teachers are right there alongside them.
"It's difficult. Because we really rely heavily on relationships," Derby Ridge Elementary special education teacher Patrika Brown said.
Brown said students with special needs require more attention to make sure they're learning, but more attention means more complicated scheduling.
"The hardest part about like, figuring out what time you have in your schedule, where's the gap, how many you can get in one group, so you won't have to, you know, keep repeating information all day," Battle High School special education teacher Donndre Smith said.
Every student is unique and has different needs and learning speeds. One of Smith's students rarely spoke.
"Like it really, really made it hard for me to help him because I couldn't
…
Read More