SHANNON • Friends, coworkers and students of Shannon special education teacher Summer Bradley, who died Saturday at the age of 34, held a candlelight vigil in her honor, Thursday night.
The solemn event, held at dusk at the high school, also featured a balloon release. According to those who attended, the event was a celebration of a beautiful life cut far too short.
"The candlelight is to commemorate the impact she had on each of us as educators and as students," Shannon High School Principal Dr. Jason Arledge said. "The balloon release is to signify that she's going to a better place now."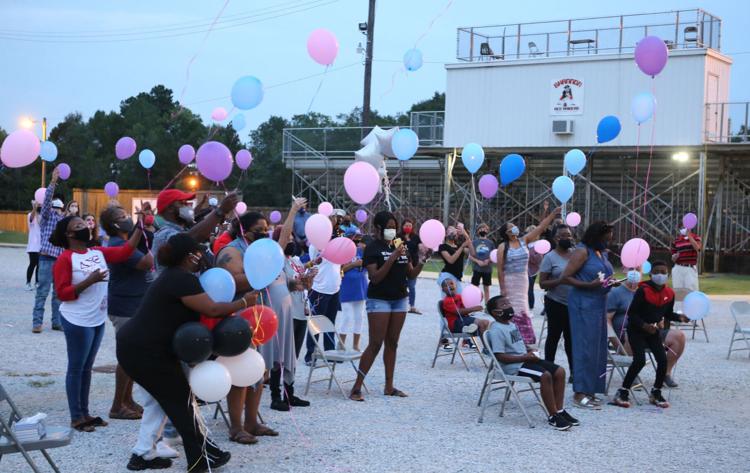 Bradley, a Tupelo native, served as the Biology inclusion teacher for the school where she aided students who needed help with science assignments or special accommodations in the classroom.
Arledge said that he and Bradley both began teaching at Shannon in Aug. 2011, and they taught next door to one another during Arledge's last two years of teaching math.
"She was passionate about education, she was passionate about her family, and she treated students as if they were her family," Arledge said. "That's a trait we all want to emulate as educators. We want to treat our students well and see their success as our success, and she did that every day."
According to those who knew her, Bradley consistently went above and beyond what was required of her as a teacher, from driving students to take their driver's license exams or taking them to job fairs and showing them how to network with potential employers.
Whether it was staying after school or helping on the weekend, Bradley volunteered her time to benefit her students, according to Kaley Worthey, MET Chair for Shannon High's special education department.
Bradley was licensed to drive a school bus and would even arrange to pick up and drop off students for ACT exams on Saturdays.
"If they were taking the ACT and would tell us, 'Hey, my parent's not going to be able to take me so I'm not going to go,' we would get it arranged and approved," Worthey said. "We'd wake up at 6 o'clock in the morning and pick up all of these kids from their houses and drop them off wherever they were testing."
She would also step up if her school needed an extra substitute bus driver, Arledge said.
Worthey said Bradley's students loved and respected her like a mother.
"They knew when they were in her class, the standard she had for them," Worthey said. "They were really good with her."
Bradley's concern for her students stretched far beyond the time they spent together in the classroom. According to Worthey, she deeply cared about their well-being and would do everything in her power to help them succeed.
Leigh George, Shannon High's Algebra inclusion teacher, shared a classroom with Bradley for years. She described Bradley as an upbeat person who never met a stranger. She always rooted for the underdog and would go out of her way to call students if they were out sick to let them know what they had missed and help them get caught up.
"Summer was not only a colleague and a fellow teacher, she was a friend to everyone she met," George said. "She had a wonderful heart, an infectious laugh and smile that is really going to be missed."
It's these aspects of Bradley's life – the positive impact she had on her coworkers and students every single day – that Thursday night's event celebrated.
"We want to make sure that the memories of her are not just positive for the time being but are long lasting, and she had an impact on us that will last a lifetime," Arledge said.