Posted on 6 October 2020 at 4:38pm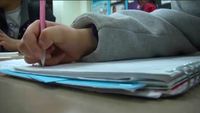 COLUMBIA – Some special education students have a hard time with online learning, but they're not alone.
Their special education teachers are right there alongside them.
"It's difficult. Because we really rely heavily on relationships," Derby Ridge Elementary special education teacher Patrika Brown said.
Brown said students with special needs require more attention to make sure they're learning, but more attention means more complicated scheduling.
"The hardest part about like, figuring out what time you have in your schedule, where's the gap, how many you can get in one group, so you won't have to, you know, keep repeating information all day," Battle High School special education teacher Donndre Smith said.
Every student is unique and has different needs and learning speeds. One of Smith's students rarely spoke.
"Like it really, really made it hard for me to help him because I couldn't understand what you know, what he was looking for, what he needed," Smith said.
Brown said her schedule may look organized on paper, but in reality it's not that simple.
"A Gen Ed kiddo who can get something in 30 minutes… my kid might not get it for three weeks. And they'll get it for that day. And then the next day, they're looking at you like, 'What'd you teach me yesterday?'"
Like every teacher, Brown and Smith had to adapt to the reality, but one thing sets them apart from general education teachers.
"The biggest message is special ed teachers have to advocate a lot more," Brown said.
Brown found alternative ways to advocate for her students while virtual.
When a general education teacher gives a student an assignment, Brown will sometimes suggest different ways for them to complete it, instead of letting the general education teacher alter change the whole assignment for them.
"I'm a little snappy in the chat. Like, I'll, I'll privately chat the gen ed teacher- 'Call on so and so. He knows the answer.' No call on him," Brown said.
She understands that sometimes her students are going to need breaks. She took the time to create a virtual Zoom background that says 'Back in two minutes.'
Brown said she thrives on always prioritizing her students.
"What's best for the student, not what's easier for the teacher or what's easier for the district, like, what's best for the student, you know?" Smith said. "So that's, that's the toughest part is, you know, the advocating and getting everybody on the same page when you advocate for them."