Western Australia has reported two new cases of Covid-19 overnight.
One is a man in his 50s who is in hotel quarantine in Perth after arriving from Indonesia. The second is a man in his 30s, who is a crewman on the Vega Dream. He is in isolation at the Hedland Health Campus and will be transferred to a quarantine hotel in Perth.
Of the remaining 19 crew members on board the Vega Dream, six have today returned positive COVID-19 tests.
NSW Health has sent out some more information on those A2Z Medical Clinic cases.
All staff at the clinic are isolating now.
The patient connected to the two doctors also attended Isra Medical practice, 102A Haldon Street Lakemba, and anyone who attended at Monday, 5 October, 7.15pm to 7.40pm is considered a casual contact and should monitor for symptoms.
A new pop-up testing clinic has been established at Lakemba Uniting Church, corner Haldon Street and The Boulevard, Lakemba.
Updated

Two Covid-19 cases are doctors in Lakemba GP clinic
On the daily Covid cases in New South Wales, health minister Brad Hazzard says there are two cases in two doctors, linked to the A to Z Medical Clinic in Lakemba.
"The two new cases are linked to a previously reported case in a patient who attended Lakemba Radiology. New South Wales Health is in the process of contacting everyone considered to be a close contact of these cases, and I stress obviously as the GP is in a practice, we expect there'll be quite a number of people who may have been in close contact with them," he said.
"These close contacts should be tested immediately and isolate for a full 14 days from exposure, regardless of the results of any tests. Casual contacts of these two
GPs, these cases, must monitor for symptoms and then get tested and isolate immediately if they develop any symptoms."
He says people should monitor for symptoms if they were there on Thursday 1 October from 2.30pm to 3.30pm, Friday 9 October from 3pm to 4.30pm, and Saturday 10 October all day.
Updated

You can follow more of the Gladys press conference on our ICAC live blog here.
Sounds like Berejiklian will not be resigning today, following the revelations at ICAC:



And I look forward to maintaining my focus to keep everybody safe, to keep jobs going during a very difficult time for the state. But I want to state at the outset that, had I known then what I know now, clearly I would not have made those personal decisions that I did. I trusted someone that I'd known for a long time, and I feel really, really let down. I trusted him for a long time. We were colleagues for 15 years. And I'm not going to take away from the fact that I made a mistake in my personal life, but I have to say that there is huge separation between a personal life and public office. And I can't stress enough that, everyday that I've been in this job, I have held myself accountable to the highest standards, and I've held my colleagues to the highest standards.
Updated

NSW premier Gladys Berejiklian is speaking now.
She says she is an "extremely private person" and she is "very upset at what has transpired".



But I want to make this assurance to the people of New SouthWales – I have always put the public first. I have always made sure the public interest is first and foremost paramount in every single thing that I do. The integrity of the role I have – the office that I hold – is the greatest privilege of my life. And while I have made this mistake in my personal life, I intend to serve the people of NSW to the best of my ability. That's what I've always done. I've sacrificed my life to public office, and I'm proud of that.
Updated

Victorian Nationals senator Bridget McKenzie tells the ABC she believes the Victorian roadmap needs to be revisited.
"This failed strategy of the premier that even the [chief health officer] of our state has acknowledged doesn't even think he'll get to the KPI he set himself. The people who developed this model out of Melbourne Uni have gone public around how the assumptions have been put in place and the implementation of it. It's time to revisit the plan. It's not working."
Victorian premier Daniel Andrews has said today the roadmap will be reworked, with some restrictions relaxed, particularly around socialising.
Labor MP Josh Burns points out that Victoria doesn't have its border closed – it's other states closing their borders to Victoria.
Updated

While we wait for the NSW premier, here is an update on the La Nina, via AAP:
Australia is likely to be hit with increased severe weather over the next six months with more cyclones and flooding forecast.
The current La Nina may also bring drought-easing rain to some areas, with this year's northern wet season expected to arrive early, the Bureau of Meteorology said on Monday.
Climatologist Greg Browning said the La Nina was also likely to result in a rise in the number of cyclones forming between October and April.
"On average Australia sees nine to 11 tropical cyclones each year, with four crossing the coast," he said.
"With La Nina this year we are expecting to see slightly more tropical cyclones than average."
Bureau modelling suggests there's an increased risk of widespread flooding in Queensland, NSW, Victoria, Tasmania and northern Western Australia.
Higher-than-average rainfall is also predicted across much of the country, which is likely to increase humidity levels.
This could result in fewer severe heatwaves and extreme heat days in southern areas but they may last longer and be more sticky.
More rain also means there's also likely to be fewer catastrophic blazes this bushfire season.
Updated

NSW premier Gladys Berejiklian press conference scheduled for 4.30pm. She will be joined by treasurer Dominic Perrottet and health minister Brad Hazzard.
Updated

NSW Labor to move a motion of no confidence against Berejiklian
McKay says Labor will move a motion of no confidence against Berejiklian in New South Wales parliament tomorrow.
When asked what evidence she has that the premier was not telling the truth at Icac, McKay says that is her (McKay's) view of the evidence.



I think her political judgement has been poor, her behaviour has been reckless. She's shown very poor judgement but I think this goes to the heart of the type of leader you want in NSW.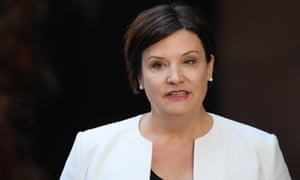 Updated