Remote Learning
Class for Zoom Adds Education Interface to Popular Meeting Platform
By Dian Schaffhauser
09/23/20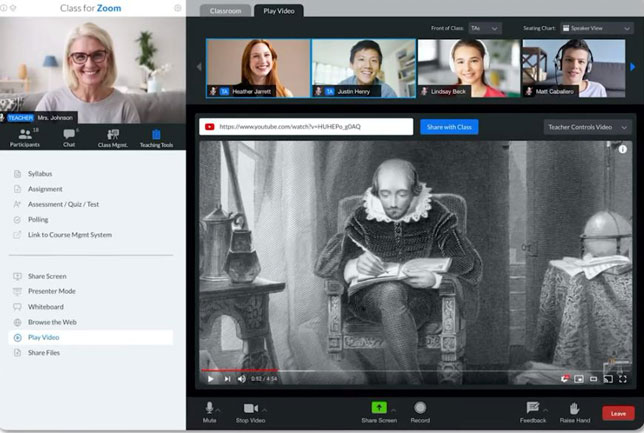 A startup founded by education technology veterans has announced a program intended to make Zoom more effective in replicating the classroom experience for teachers and students. Class for Zoom is currently seeking teachers to beta test the software. It's expected to launch later this fall.
Class for Zoom is being developed by ClassEDU, a new company founded and led by Blackboard co-founder and former CEO Michael Chasen. According to Chasen, Class for Zoom is designed as an education interface for Zoom that adds teaching tools, and additional capabilities for classroom administration.
For example, while Zoom allows teachers to deliver lectures in real time, use a whiteboard and set up breakout groups, the addition of Class for Zoom adds functionality for:
Managing attendance with ID authentication;
Handing out assignments;
Performing assessments, quizzes and proctored tests live during class;
Linking to asynchronous course materials;
Setting up screenshare so teachers can place items behind them and allow them to point to the items on the screen as they would in class; and
Simplifying use of the Zoom whiteboard, pushing websites to students and controlling video playback.
Teachers are placed in the corner of the screen to be more findable. They can also place certain individuals at the "front" of the class as presenters.
The new software improves how students raise their hands in class and teachers provide feedback. Teachers can hand out gold stars that show up on a student's image. An improved chat allows for enhanced interaction during class, and teachers can hold one-on-one discussions with individual students.
Participation tracking uses color coding to show the teacher how much a student has actively participated in class activities and who needs to be called on next. Another feature shows teachers which students don't have Zoom up as the primary app on their computers.
The view of students can be organized alphabetically; a hand-raise view orders students based on when their virtual hands went up. And a feedback mechanism allows students to notify the teacher when the information may be moving too fast.
A real-time dashboard shares data by student, class and broader groupings.
"Due to COVID, millions of students are learning online, and education is changed forever," said Chasen, in a press release. "As the father of three school-age kids, I have a front-row seat to how challenging remote learning is. That's why we designed Class for Zoom to feel and work like an in-person classroom, and to bring back the happiness of school to teachers and students."
The new company has attracted $16 million in seed financing from executive with ties to Zoom and the ed tech segment, including: Jim Scheinman of Maven Ventures, an early investor in Zoom and the person who is credited with naming the company; Jessie Woolley-Wilson, CEO of DreamBox Learning and past president of Blackboard's K-12 division; and Deborah Quazzo, partner at GSV Ventures, a leading education investment fund.
"The disruption to education due to COVID is leaving an entire generation of students behind," said Quazzo. "Class for Zoom will help Zoom work for teachers and learners alike during COVID and far into the future as home-based learning is core to student success."
Pricing hasn't been announced.
Interested districts, schools and educators can schedule a demo and join the beta waitlist at classforzoom.com. A video showing the program is available on YouTube.


Dian Schaffhauser is a senior contributing editor for 1105 Media's education publications THE Journal, Campus Technology and Spaces4Learning. She can be reached at [email protected] or on Twitter @schaffhauser.