Trying to decide what you want to study can be overwhelming. Factors like job satisfaction, outlook, growth, and pay are all important in considering a career path. Fortunately, some degrees, like Utah Valley University's Community Health Education degree, commonly known as Public Health, is tailor-made to lead you to a fulfilling career that checks all the boxes.
More than ever before, public health is on everyone's mind. From how to stay healthy in a pandemic, to making sure you are making healthy decisions for your specific needs, public health professionals are a valuable asset to individuals, families, and communities.
It's not only becoming more relevant in today's society, but the job outlook is positive too. According to the Bureau of Labor Statistics, public health jobs are expected to increase by 11% through 2028. While it may seem like a small number, it's much higher than the average career outlook. Besides job security, here are four ways a public health degree from UVU can give you a fulfilling career.
When considering putting your hard-earned cash toward a degree, you want that degree to have you well-prepared for getting a good job, and for making an impact on the community. According to a 2017 Gallup Poll, nearly 70% of students think they won't have the necessary skills to land a good job when they graduate. At UVU, the goal isn't to push people through a program and collect tuition payments—they want to give you the necessary skills and education to get a job, earn a living, and make an impact on the community.
Public health focuses on the prevention of health problems, rather than the treatment of them. Such a focus prepares students to serve as effective and competent public health professionals through their study and experiences provided by the program.
Graduates of the program are equipped with the knowledge to help individuals, families, and communities improve and maintain healthy lifestyles, as well as be prepared to assess, plan, implement, manage, and evaluate public health programs.
People learn in different ways, and UVU's public health degree will make sure you have a mix of classroom and real-world learning experiences to prepare you for a career in public health.
As part of the program, 116 credit hours of traditional classes are essential to becoming a competent professional in today's modern public health climate. Classes in human diseases and epidemiology—the study of disease distribution—are especially relevant to pandemics and widespread illness. Classes in Health Promotion for Older Adults are especially important given Utah's growing aging population.
Not only are the classes relevant to today's public health needs, so are UVU public health professors like Dr. James Bemel and Dr. Sue Jackson.
Bemel is currently working on research projects regarding electronic cigarette use among college students, the financial health of college students, concealed carry within the field of public health, and the impact of the Olympic Games upon college students' physical activity levels.
Jackson is collaborating with the Center for Change to evaluate screening tools for those with both eating disorders and Type 1 diabetes. No matter your professor in the Community Health Education program, you can be confident that their research reflects a deep commitment to the progress of public health for communities.
Beyond the traditional classroom experience, UVU offers a variety of engaging learning experiences to expand student's experience before entering the workforce. Students are required to complete an intern experience in public health roles to graduate. Additionally, students can participate in humanitarian experiences, giving them an inside look into where their work could take them.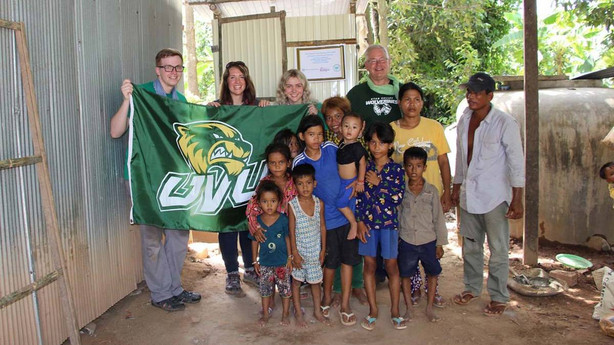 Upon graduating from the program, students are eligible to sit for the Certified Health Education Specialist exam to qualify for jobs in government, private, and nonprofit sectors.
Students could work in healthcare facilities, hospitals, state and local health departments, businesses, worksite wellness programs, schools, universities, and a variety of nonprofit organizations with a degree in public health.
Because health education specialists may have a variety of responsibilities, UVU's program is specifically tailored to prepare students for the various roles they may experience in a public health career.
According to the Utah Valley University Public and Community Health site, the program is centered on being able to do the following upon graduation:
Assess needs, resources, and capacity for health education/health promotion.
Plan health education/health promotion programs for individuals, families, and communities.
Implement and evaluate a health education/health promotion strategy, intervention, and/or program for individuals, families, and communities.
Serve as a health education/health promotion resource person and communicate and advocate for health, health education/health promotion, and the profession.
Describe and use the ethical decision-making model using ethical principles as applied to health education/health promotion activities.
The coursework and learning experiences available at UVU help students feel prepared and confident for the many responsibilities they may encounter as a public health professional.
If you're looking for a fulfilling career where your impact on individuals, families, communities, and organizations will be lasting, you should consider pursuing a degree in Community Health Education through Utah Valley University. For more information about the program, future careers and getting started, visit their website.
×
More stories you may be interested in